King Mystrie's Carrd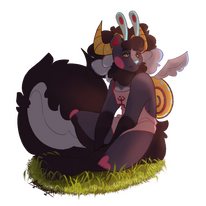 Artist, Animator and Snail
---
Socials/contacts
---
Commissions are open!
Aliases
What I Will/Won't Draw
What I will draw
Humans

Anthro characters

Gijinka

Feral characters

animals/pets

Robots

More detailed/realistic or cartoon art styles

Commercial artwork

Character designs

nsfw If you are 18 or older (I will check if you are your age if you ask for it)
What I wont draw
Paraphilias/"Proship"

Real People

Hate art

Characters not belonging to the commissioner without permission from the character owner

NFTs
---
What you can do with the art
Share on other websites

Use for personal use

Send to another artist to complete/edit the work
Unless you've commissioned the work** explicitly** for the intent of being used commercially and stated as such when commissioning I highly reccomend NOT to use the works commercially because the quality and style between my commercial commissions and regular commissions are different. Works meant for commercial use will cost twice as much.Prompt sponsorships will always be public domain/creative commons and will not belong specifically to you.That being said, I will also absolutely never accept NFTs being made from any of my work and will deny making work for such a thing.
Regular commissions (Contain only one or two different characters, can have any variety of polish or amounts of drawings included as long as it is part of the same piece)

Specialty commissions (An extra fee for especially complicated pieces, you can ask me to check of what you'd like would be considered specialty or not)

Commercial (an extra fee which is charged if you would like to use a piece for any commercial work, this extra fee is for the more time and quality taken into the work for commercial use)
Single image Commission prices
| Regular | Commercial | Specialty | Commercial Specialty |
| --- | --- | --- | --- |
| $150 | $300 | $250 | $500 |
Prompt sponsorships
Prompt sponsorships are commissions where one will give me a small fee of 5 dollars to give me a 1-3 word prompt for the next art piece I create. These are not the same as regular commissions as they have no guarantee of quality and are likely to be small sketches. Each prompt sponsorship will have a shoutout added to the description of the piece inspired by the prompt I make and will be public domain for anyone to use.
All animation prices will have to be determined after consultation, please reach out to me via the contacts available on the first page.